Chris Rawlins
Echo
An in-depth, drawing duplication masterclass
This product is part of our Black Friday Bundle Deal. Click here to save money on this product.
Your participant draws a picture in secret. You privately draw a picture too. They're both turned round. They MATCH!
Christopher Rawlins has devoted his entire career to unpacking the magnificence of this renowned mentalism plot. He has poured countless hours into developing, refining, and publishing a myriad of methods, presentations, and psychological theories; all in relentless pursuit of the perfect drawing duplication.
And he's about to share his life's work with you.
Join Rawlins in this exclusive masterclass where he unveils four of his favourite, close-up drawing duplication approaches. Each method is a unique, razor-sharp weapon that will give you the power to blow minds in almost any situation.
But this is NOT just a collection of tricks.
You are about to embark on a journey into the depths of fascinating psychological magic theory. Echo is a treasure trove of history and insights that will leave any serious mentalist salivating for pens and paper.
METHODS
The Any-Purse Peek: Turn any ordinary wallet into a peek device. No preparation required; just smart choreography and psychology that will leave you staring at their drawing right under their noses.
Behind the Back: A participant's drawing is returned to a stack of blank cards held behind your back. Despite the seemingly impossible conditions, you know with 100% accuracy what they have drawn. There are NO complicated sleights and spectators can be BURNING your hands. The method is so deliciously DEVIOUS we wish we'd thought of it.
Flutterbug: A beautiful, three-phase routine using a single index card and a collection of audience-named drawings. Each phase employs a completely different method; by the time you reach the end, any chance of backtracking a solution will evaporate from your audience's minds. They will be CONVINCED you have a psychic gift. This stunning routine is worth the price of the entire course!
Everything and Nothing: Rawlins' most popular take on the drawing duplication (Replicate) has been refined and strengthened further with even smarter choreography. This is as clean and direct as a drawing duplication can be without the use of gimmicks or secret devices.
♣ ♥ ♠ ♦
The second half of the course is dedicated to the REAL nuggets of mentalism. Join Rawlins for a further 90 minutes as he geeks out on fascinating history, meticulous performance psychology and shares valuable anecdotes that will transform you, in your audience's eyes, from a mere trickster to a full-blown miracle worker.
For example, you will learn to spot opportunities and start performing drawing duplications without ANY traditional conjuring methods. You will learn how to squeeze multiple moments of amazing mind reading from a single revelation, and you will learn a solid framework for your performances that builds in intensity to an explosive climax.
And so much more!
Just as Echo mirrored spoken words in Greek mythology, you can now wield the power to reflect the magic of drawings - turning a mythical curse into your artistic blessing.
Become a true master of the drawing duplication, exclusively at The 1914.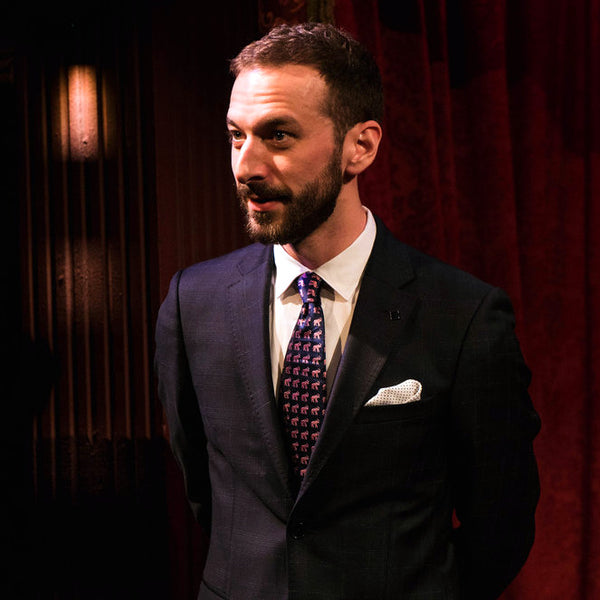 About the teacher
Chris Rawlins
Chris performs impressive memory performance feats for a living and is obsessed with drawing duplications.